Anticipated IPOs Bring Optimism
Stock Market News
December 2011
Get this Article Get this Article & Suite of Tools
Anticipated IPOs Bring Optimism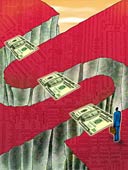 Although economic prospects in Spain, Italy and Greece continued to look bleak and Europe's economic crisis dominated the headlines, the U.S. economy began to show long-anticipated signs of growth. Various IPOs slated for the months ahead are bringing interest and enthusiasm into the moribund stock market. Market traders and individual investors were cheered by some good news as the advent of the holiday season drew near.
On the economic front, the Conference Board's Leading Economic Index (LEI) increased 0.9 percent in October. Not only was the gain an improvement over September's negligible 0.1 percent increase, but it also beat analysts' expectations. This news was greeted with enthusiasm because it suggests that confidence is resurging – lack of which holds growth back even when key statistics are encouraging. An increase in housing permits, improving consumer sentiment and job growth were all cited as major factors in this upward swing. Retail sales also exceeded expectations, encouraging analysts to hope that the trend would be sustained through the holiday season.
September's numbers showed that business inventories were flat in September, after some 20 consecutive months of increases. However, economists anticipate that businesses are loosening their purse strings in anticipation of the year-end expiration of some tax breaks. If equipment purchases rebound, it will help offset concerns about the impact here of the European fiscal crisis. Industrial production brought good cheer, bettering expectations by posting a 0.7 percent increase for the month; most significantly, a 3.1 percent gain in auto production was a major factor in the overall increase.
Although some market analysts remain leery, others remind investors that there are some excellent buying opportunities among blue-chip companies. Select stock prices are well below valuations, and investment gurus remind us that there are bargains to be found. Times like these ignite discussions about value vs. growth stocks. Many investment pros believe that long-term investing favors value stocks – or stocks that are inexpensive relative to earnings and the book value of their assets. Growth stocks, which include companies like Apple and eBay, are expected to log rapid growth and therefore bring relatively high stock prices. Growth stocks can perform for years, and investment statistics show that they do well during times of economic uncertainty. As soon as economic uncertainty retreats, value stocks once again command investor attention.
Opinions vary on whether the new crop of IPOs will boost the markets. Mid-November was one of the busiest times all year for IPOs, with Angie's List attracting significant attention. Overall, analysts were cautious about the impact of IPOs launched by companies as diverse as Angie's List, Delphi Automotive and Mattress Firm Holding Corp. Companies like Toys R Us and Zynga (online games) are waiting in the wings with paperwork filed to go public in the next few weeks. Some investment advisors note that IPOs generate excitement and confidence – excitement that may well exceed their ability to lift the markets. Nevertheless, the markets thrive on confidence and everyone would be happy to see pre-holiday optimism on Wall Street.
Get this Article Get this Article & Suite of Tools
These articles are intended to provide general resources for the tax and accounting needs of small businesses and individuals. Service2Client LLC is the author, but is not engaged in rendering specific legal, accounting, financial or professional advice. Service2Client LLC makes no representation that the recommendations of Service2Client LLC will achieve any result. The NSAD has not reviewed any of the Service2Client LLC content. Readers are encouraged to contact their CPA regarding the topics in these articles.
Dynamic Content Powered by Service2client.com
SEO Content Powered by DynamicPost.net